CBSE Class 12 Sample Papers 2023-2024 | 2022-2023 | 2021-2022 with Marking Scheme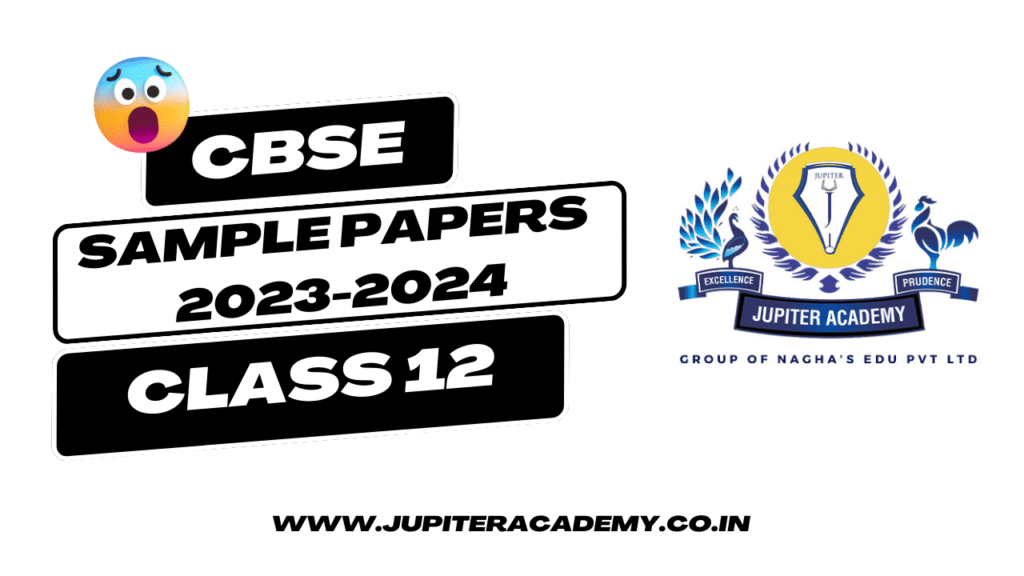 About CBSE Class 12
CBSE Class 12 is a critical juncture in a student's academic journey. The Central Board of Secondary Education (CBSE) conducts the Class 12 board exams, which serve as a vital stepping stone for higher education and career opportunities. These exams require rigorous preparation, and our sample papers aim to facilitate just that.
Importance of Sample Papers
Sample papers are instrumental in helping students understand the exam pattern, question types, and marking schemes. By practicing with these sample papers, students can gain confidence, identify weak areas, and perfect their time management skills. They provide a real-time experience of the examination, helping students perform to the best of their abilities.
Features of Our Sample Papers
1. Updated Syllabus Coverage
Our sample papers are designed to align with the latest CBSE Class 12 syllabus for each academic year. This ensures that students are practicing questions that are relevant and up-to-date.
2. Varied Difficulty Levels
We offer sample papers with a mix of difficulty levels – from easy to challenging. This allows students to gradually build their confidence and skills.
3. Detailed Marking Scheme
Each sample paper comes with a meticulously crafted marking scheme that provides a clear understanding of how answers are evaluated. This is an invaluable tool for self-assessment and improvement.
4. Subject-wise Division
We have organized the sample papers by subjects, making it easy for students to access the papers they need.
Download the Sample Papers
Below, you can find the links to download the sample papers and marking schemes for CBSE Class 12 for the academic years 2021-2022, 2022-2023, and 2023-2024:
CBSE Class 12 Sample Papers 2023-2024 with Marking Scheme
CBSE Class 12 Sample Papers 2022-2023 with Marking Scheme
CBSE Class 12 Sample Papers (2022-2023)
Marking Schemes (2022-2023)
CBSE Class 12 Sample Papers 2021-2022 with Marking Scheme
CBSE Class 12 Sample Papers (2021-2022)
How to Make the Most of These Sample Papers
Start early: Begin your practice well in advance to cover all topics and revisions.
Time yourself: Practice answering questions within the stipulated time to simulate exam conditions.
Review your answers: After each practice session, go through the marking scheme to identify errors and areas for improvement.
Seek help: If you're stuck on a particular topic, don't hesitate to seek assistance from your teachers or peers.
Final Thoughts
We understand the importance of a strong foundation in Class 12, and our CBSE Class 12 Sample Papers are here to help you achieve just that. Make the best use of these resources, and may you excel in your board examinations.
National Testing Agency (NTA) has released the much-anticipated JEE Main...
Read More
CBSE Class 12 Sample Papers 2023-2024 CBSE Class 12 Sample Papers 2023-2024 CBSE Class 12 Sample Papers 2023-2024 CBSE Class 12 Sample Papers 2023-2024 CBSE Class 12 Sample Papers 2023-2024 CBSE Class 12 Sample Papers 2023-2024 CBSE Class 12 Sample Papers 2023-2024 CBSE Class 12 Sample Papers 2023-2024 CBSE Class 12 Sample Papers 2023-2024 CBSE Class 12 Sample Papers 2023-2024 CBSE Class 12 Sample Papers 2023-2024
CBSE Class 12 Sample Papers 2023-2024 with Marking Scheme​ CBSE Class 12 Sample Papers 2023-2024 with Marking Scheme​ CBSE Class 12